Ingredients:
Mutton: 500gm
Oil: 4 tablespoon
Cinnamon: 2 inch stick
Clove: 5 no.
Cardamom: 3 no.
Bay leaf: 2 no.
Curd / Yogurt: 1 cup
Poppy seed: 1 tablespoon
Almond: 5 no.
Cashew nut: 10 no.
Fresh coconut:  1 tablespoon (grated)
Onion: 1 no. (Small)
Tomato: 1 no. (Small)
Ginger: 2 inch piece
Garlic: 8 flake
Turmeric powder: 1teaspoon
Coriander powder: 1 teaspoon
Chilly powder: 1teaspoon
Garam masala powder: half teaspoon
Cumin seed: half teaspoon
Salt: 1 table spoon
Coriander leaves: 100 gm
Ghee: 1 table spoon (optional)
Preparation:
Soak poppy seed, almond, cashew nut in little warm water (about half an hour).
Make paste of fresh coconut, poppy seed, almond and cashew nut.
Cut onion into very small pieces.
Chop the tomato.
Marinate the mutton with ginger, garlic, curd, chilly, coriander powder and paste (fresh coconut, poppy seed, almond, and cashew nut). Keep aside (About half an hour)
Method:
Take a cooker. Heat oil, Put cumin seed, clove, bay leaf, garlic flake, cinnamon and crushed cardamom in it. Sputter it for few seconds.
Add onion and saute till light brown.
Add tomato and continue to saute for 3-5 minutes.
Add marinated mutton and stir it.
Reduce to low heat, and cover the lid. Fry till oil separates from masala (or liquid dries up)
Cook on low flame. Add salt and continue to roast for about 10-15 minutes.
Add 100ml hot water. Close lid and bring to full cooking pressure.
Reduce to lower heat and cook for 4-7 minutes.
Allow cooker to cool.
Add Garam masala powder, ghee and half chopped coriander leaves.
Garnish with coriander leaves and fried Kaju (cashew nut)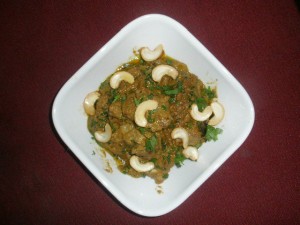 Serve hot.

Mutton Hyderabadi by Nag Ratna Sahu is licensed under a Creative Commons Attribution-NonCommercial-ShareAlike 4.0 International License.