once upon a time when my children was kid like this quick old breakfast; bread slice soaked in beaten eggs with milk and black pepper,fried the soaked slices on both side. Aday old bread is better because it is soak up  more egg  mixture.A Easy and quick way to prepare breakfast for all.
Ingredients:
Bread slices: 4 no.
Egg: 4 no.
Ghee/butter: for shallow frying
Black pepper powder: 1 teaspoon
Milk: 4 tablespoon
Salt: 1 teaspoon
Preparation:
Cut the bread slices diagonally.
Whip egg with milk and salt.
Add black pepper powder.
Method:
Take a non stick fry pan.
Spread 1 teaspoon ghee/butter on it.
Dip the slice bread into the whipped egg, and spread on the fry pan.
Fry on medium heat on both sides till golden brown color appears. (It takes about 2 minutes each side)
Add little ghee/butter if required.
Repeat till all the slices are cooked.
Garnish with tomato ketchup and slices.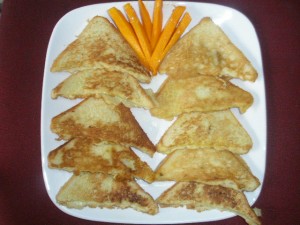 Yummy! Hot French toast ready to serve.

French toast by Nag Ratna Sahu is licensed under a Creative Commons Attribution-NonCommercial-ShareAlike 4.0 International License.