Ingredients:
Prawn: 500gm
Onion: 2 no. (Small)
Tomato: 1no. (Small)
Lemon juice: 1 tablespoon
Ginger paste: 1 teaspoon
Garlic paste: half teaspoon
Oil: 2 table spoon
Cumin seed: half teaspoon
Bay leaf: 2 no.
Salt: 1teaspoon
Turmeric powder: 1teaspoon
Red chilly powder: 1 teaspoon
Coriander powder: 1teaspoon
Garam masala powder: one forth teaspoon
Fresh coriander leaves: 2 table spoon (chopped)
Water:  half cup
Preparation:
Clean and wash the prawn.
First remove head and leg from the body.
Then peel the shell from the prawn.
Cut outer edge of prawn's back. You can see intestine of the dorsal part of the body (vein).
Remove and discard the vein runs along right under the surface of back, with your finger or tip of knife
Add lemon juice. Leave it for 5-7 minutes. Again wash the prawn drain out all the water.
Marinate the prawn with salt and red chilly powder.
Cut onion and tomatoes into small pieces.
Method:
Heat oil in a pan till smoke is coming.
Put bay leaf, cumin seed and fry few seconds.
Add chopped onion and brown on high flame. (About5- 7minutes)
Add, ginger and garlic paste, and fry until golden brown (about 3 minutes).
Add all powder masala and tomato.
Cook till oil starts leaving the edges.
Add marinated prawn, stir it well and cook for 4-6 minutes with lid on. Reduce to low flame.
Fry till liquid dries up.
Add hot water. Close lid.
Reduce flame to lower heat and cook until gravy becomes thick and oil comes on top.
Add Garam masala powder and chopped coriander leaves.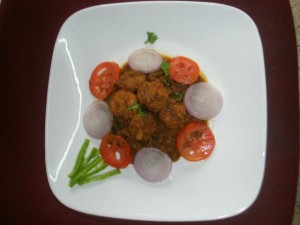 Serve with paratha or pulao.