High in vitamin 'A' and 'C', promote healthy skin, high in fiber, low risk of cataract, prevent constipation ,treat sore throat and many more.
Ingredients:
Bhindi (lady finger): 250 gm
Mustard seed: 1 tablespoon
Poppy seed: 1 teaspoon
Whole Red chilly: 3 no.
Garlic: 7-8 cloves (Medium size)
Salt: half teaspoon (as per taste)
Turmeric powder: half teaspoon
Oil: 2 tablespoon
Water: 1 cup
Preparation:
Clean and wash bhindi.  Dry them with kitchen towel.
Trim the both ends of bhindi, and Cut the bhindi in2-3 inch pieces. Slit each pieces in + cross section such that one end remains joined.
Grind mustard seed, poppy seed and red chilly with a pinch of salt (dry). When it becomes powder add garlic and water, and make smooth paste.
Method:
Take a fry pan and heat the oil. When smoke starts coming, add chopped bhindi.
Stir it, and fry it till bhindi is half done. (About 5 minutes)
Add wet masala, salt and turmeric powder and fry it about 2 minutes.
Lower the heat and fry 1more minutes.
Add water in it, and stir it.
Boil it on high flame. Lower the flame, cook it till bhindi become soft and done. (About 2-3 minutes)
Bhindi curry is ready to serve with chapatti or paratha.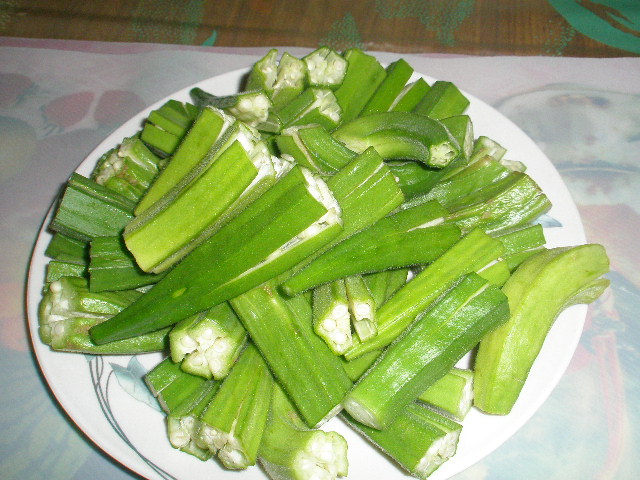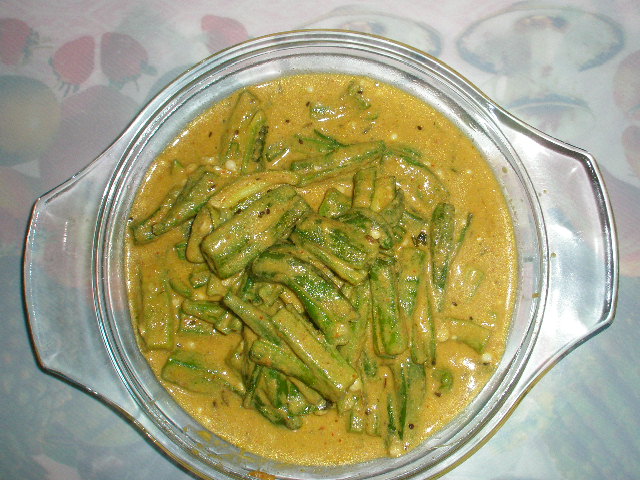 Serve hot with paratha or chapati.