Ingredients:
Preparation:
Dry roast each and every ingredients for stuffing.
Grind these and make the fine powder.  Now stuffing powder is ready. Keep aside.
Clean and wash bhindi.  Dry them with kitchen towel.
Trim the both ends of bhindi, and carefully make slit on one side. (Longitudinally)
Take a bowl, put stuffing powder in it. Add salt, dry mango powder and turmeric powder. Add little water and make thick paste.
Stuff this masala into the bhindi.
Cut tomato in eight pieces.
Method:
Heat 2 tablespoon of oil in a fry pan.
Add stuffed bhindi in it, and fry on low flame. Cover it.
Fry until bhindi is done, (About7-10 minutes)
Add tomato pieces and fry for 2to 3 minutes on high flame.
Stuff bhindi is ready to serve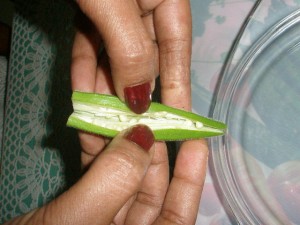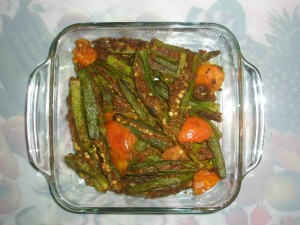 Serve hot with rice or roti.