Ingredients:
Bhindi (lady finger): 250gm
Garlic: 1 teaspoon (paste)
Aniseed powder: 1teaspoon
Chilly powder: half teaspoon
Turmeric powder: half teaspoon
Coriander powder: one and half teaspoon
Thymol seed/ajawine: half teaspoon
Mustard Oil/any cooking oil: 2 tablespoon
Salt: half teaspoon (as per taste)
Green chilly: 2-3 no.
Coriander leaves: 2 tablespoon(chopped)
Preparation:
Clean and wash bhindi.  Dry them with kitchen towel.
Trim the both ends of bhindi, and cut into one inch pieces.
Method:
Heat 2 tablespoon of oil in a fry pan.
Add ajawine, when it turns brown, add garlic paste.
Stir it and add bhindi in it, and sauté on high flame.
Fry until bhindi is half done, (About 5-7 minutes)
Add chilly powder, coriander powder, turmeric powder and aniseed powder.
Fry till bhindi is done.
Now bhindi fry is ready.
Garnish with chopped green chilly and coriander leaf.
Note:
Don't over cook as the bhindi will get mushy.
Don't cover the pan.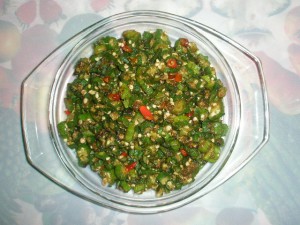 Bhindi (lady finger) is ready to serve.

Bhindi (Lady Finger) fry by Nag Ratna Sahu is licensed under a Creative Commons Attribution-NonCommercial-ShareAlike 4.0 International License.