Ingredients:
Baigan (brinjal): 4 no.
Aaloo (potato): 4 no.
Garlic: half teaspoon (paste)
Ginger: half teaspoon (Paste)
Onion: 2 tablespoon (paste)
Garam masala powder: half teaspoon
Salt: 1 teaspoon
Chilly powder: 1 teaspoon
Coriander powder: 1 teaspoon
Turmeric powder: 1 teaspoon
Rice flour/chick pea flour: 3 tablespoon. (With rice flour it will be crispier).
Oil: for shallow fry
Preparation:
Cut the Brinjal into 5mm to 6mm thin slices in a bowl filled with water (other wise it will turn dark brown as it contains lot of iron)
Cut the potato into 3mm-4mm thin slices in a bowl filled with water.
In a shallow bowl, mix the flour with red chilly powder, turmeric powder, salt, coriander powder, Garam masala powder, garlic paste, ginger paste, onion paste mix with water. Make the thick batter.
Coat the slices (both side) of Brinjal and potato with the batter.
Method:
Heat one tablespoon of oil on a non stick fry pan, spread it.
When smoke starts coming.  Spread the Brinjal and potato in fry pan.
Fry on medium heat on both sides till golden brown color appears. (It takes about 2 minutes each side)
Add few drops of oil if required.
Repeat till all the slices are cooked.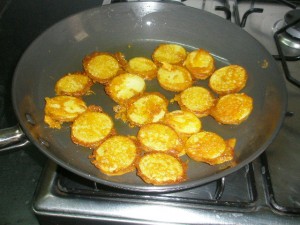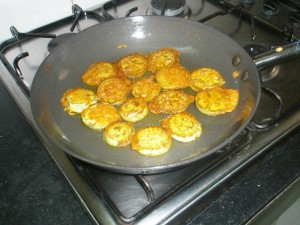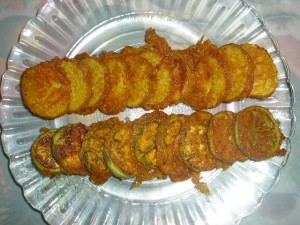 Serve immediately while it is crisp as a side disc.

Baigan Aaloo ka taruaa (potato brinjal tikka) by Nag Ratna Sahu is licensed under a Creative Commons Attribution-NonCommercial-ShareAlike 4.0 International License.