Ingredients:
Tomato: 250 gm
Onion: 1no. (Medium size)
Garlic: 3-4 flake
Ginger: 1 inch piece
Green chilly: 2-3 no.
Coriander leaves: 50 gm
Salt: 1teaspoon (as per taste)
Mustard oil/olive oil: 1teaspoon (optional)
Preparation:
Cut the onion in very small pieces.
Cut garlic, ginger, green chilly and coriander leaves.
Procedure:
Roast the tomatoes over open flame or in a preheated oven until the skin starts peeling off.
Cool them.
Peel off tomatoes skin, and put them in a mixing bowl.
Mash the tomatoes pulp completely with the help of masher/hand.
Add chopped onion, ginger, garlic, chilly, coriander leaf, salt and oil.
Mix well.
Tomato kachumar is ready to serve.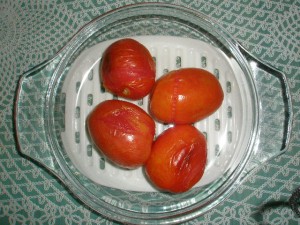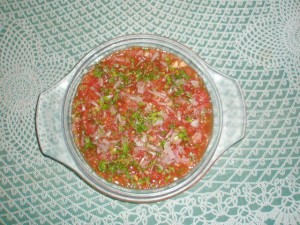 Serve hot or cold.

Tamater Ka Bharta (Tomato Kachumar) by Nag Ratna Sahu is licensed under a Creative Commons Attribution-NonCommercial-ShareAlike 4.0 International License.