Ingredients:
For making kofta:
Lauki (bottle gourd): 500 gm
Besan (chick pea flour): 2 tablespoon
Ginger: 1 teaspoon (chopped)
Green chilly: 2-3 no. (Chopped)
Fresh coriander leaf: 2 tablespoon (chopped)
Salt: 1 teaspoon (as per taste)
Oil: for deep frying
For making gravy:
Onion: 2 no. (Medium size)
Tomato: 2 no. (Medium size)
Ginger: 1teaspoon (paste)
Garlic: half teaspoon (paste)
Red chilly powder: 1 teaspoon
Turmeric powder: half teaspoon
Coriander powder: 1 teaspoon
Cumin seed: half teaspoon
Bay leaf: 2 no.
Cinnamon: 2 inch stick
Black cardamom: 1 no.
Clove: 3 no.
Curd: 2 table spoon
Butter: 20gram (optional)
Oil: 3tablespoon
Preparation:
Peel and grate the Lauki.
Squeeze out the water. Store the water in a separate bowl.
Combine all ingredients of making kofta in a bowl, and mix well to make dough.
Shape it in small ball.
Chop onion and tomato and keep aside separately.
Method:
Heat the oil in a kadhai and deep fry the kofta (ball) till it turns golden brown in color from all sides. Keep aside.
Take a fry pan. Put 2 spoon of oil in it.
Add chopped onion and fry it till become golden brown.
Add chopped tomato and fry it. When it becomes messy, Keep aside fried onion and tomato.
After cooling grind the fried onion and tomato (paste).
Put 1 table spoon of oil heat it till smoke comes, add cumin seed, bay leaf, cinnamon, black cardamom and clove. Fry it for few seconds, take care, it should not burn.
Add ginger, garlic paste in it. Fry this for one minute.
Add fried onion and tomato (paste). Stir it.
Add salt, turmeric powder, chilly powder, and coriander powder, stir it.
Add whipped curd and fry it in lower flame. (2-3 minutes)
Add butter (optional) and fry it for 2 minutes.
You can add the extracted water from the Lauki and 1 cup of water and boil the gravy. Lower the flame and boil it about 2-3 minutes.
Add fried kofta and cover it. Put off the flame.
You can serve it after 5 minutes.
Garnish with chopped green coriander.
Note:
Just before serving, heat the gravy and place the kofta in it.
Lauki kofta is ready to serve with roti or rice.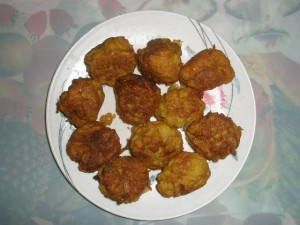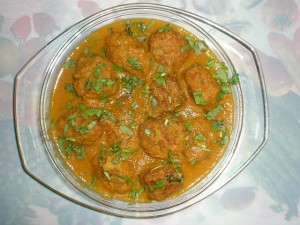 Lauki kofta curry is ready to serve.

Lauki (bottle gourd) kofta curry by Nag Ratna Sahu is licensed under a Creative Commons Attribution-NonCommercial-ShareAlike 4.0 International License.