Ingredients:
Raw Green Jackfruit: 600 gm (small size)
Potato/aalo: 2 no. (Medium)
Onion: 2 no. (large)
Tomato: 1no. (Medium)
Ginger: 2 teaspoon (paste)
Garlic: 1 teaspoon (paste)
Cumin seed: 1 teaspoon
Bay leaf: 2 no.
Garlic: 4 flake
Clove: 4 no.
Salt: 1 tablespoon (as per taste)
Red Chilly powder: 1 teaspoon
Turmeric powder: 1 teaspoon
Coriander powder: 1 teaspoon
Garam masala powder: half teaspoon
Mustard Oil/any cooking oil: 5 tablespoon
Fresh coriander: 50 gm.
Preparation:
Peel and Cut jackfruit with the help of knife and chopping board (Rub with oil the chopping board, knife and your hands so that milk of jackfruit is easily removed), put cut jack fruit slices  in a bowl filled with water (other wise it will turn dark brown as it contains lot of iron)
Peel and Cut potato into big pieces and put into a bowl of water.
Cut onion and tomato longitudinally.
Chop coriander leaves.
Procedure:
Take a fry pan/cooker. Put 3 tablespoon of oil. Heat the oil, fry kathal and potato till golden brown .Keep aside.
Heat 2 tablespoon of oil, put cumin seed, clove, bay leaf, garlic flake in it. Sputter it for few seconds.
Add onion and sauté on high flame till light brown.
Add tomato and continue to sauté for 3-5 minutes.
Add garlic and ginger paste. Stir it.
Add chilly, turmeric, and coriander powder.
Add fried kathal and aalo. Stir it
Add 200 ml to300ml water and cover the lid.
Cook on lower flame till it  is done(15 to 20minutes).
Add Garam masala powder.
Garnish with coriander leaves.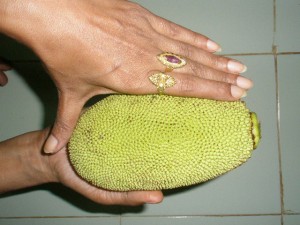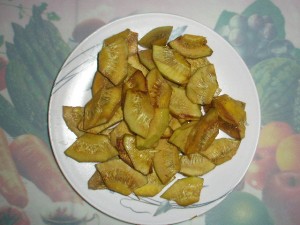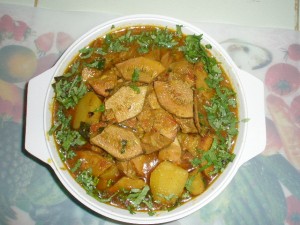 Serve hot with rice or chapatti.

The Kathal (Raw tender Jackfruit) Ki Sabzi by Nag Ratna Sahu, unless otherwise expressly stated, is licensed under a Creative Commons Attribution-NonCommercial-ShareAlike 3.0 Unported License.
 Aunty!! We want that mutton recipe with full soaked garlic Yumyum!!!. By the way I tried your chicken tikka masala, came out pretty well, though I think I overdid the ginger garlic paste :(.  
Hello Girish, Thanks for comment.  Regarding mutton with whole garlic, i will try to upload next week. So far more ginger garlic is concern +_ 25 % variation of spices in any recipe, depending upon the individual's food habit will not make much differences.It will not be far away from the original flavor of the recipe.Next time you put less ginger garlic paste.bye...