For batter:
Besan (chick pea flour): 100gm
Curd: 100gm
Sugar: 1teaspoon
Salt: half teaspoon
Soda bi carb: 1 pinch
eno: 1 teaspoon
Lemon juice/vinegar: 1 tablespoon
Oil: 1teaspoon
Ginger: half teaspoon (Paste)
Garlic: half teaspoon (Paste)
Red chilly powder: half teaspoon
Water: as per requirement
For seasoning:
Oil: 1 tablespoon
Mustard seed: 1 teaspoon
Curry leaves: 10-15
Sugar: 1 teaspoon
Green chilly: 4-5 no. (Cut into slit)
Lemon juice: 1 teaspoon
Water: 50gm
Coriander leaves: 2 tablespoon (chopped)
Preparation for batter:
Take a big bowl. Put besan and curd.
Mix well and make a smooth thick batter.
Add sugar and salt. Keep aside for 1-2 hours.
Add ginger, garlic paste and red chilly powder in batter.
Take a small bowl. Put 1 teaspoon of oil, lemon juice, soda bi carb and eno and put it into batter.
Mix well.
Grease a tray with oil. Fill half of the tray with batter.
Place this tray on cooker grid (with 200 ml water).
Place cooker on high flame with lid and bring to full cooking pressure.
Reduce the heat on low flame and cook it about20-25 minutes.
Open cooker immediately. Remove the tray. Dhokla is ready.
Cut Dhokla into cubes
For seasoning:
Take a small fry pan. Heat the pan. Put oil in it.
Add some mustard seed, green chilly, and curry leaves.
Fry it for 2-3 minutes, pour water, sugar and lemon juice.
Boil it. Put off the flame.
Put this seasoning on the prepared recipe. (Dhokla)
Garnish with chopped coriander leaves.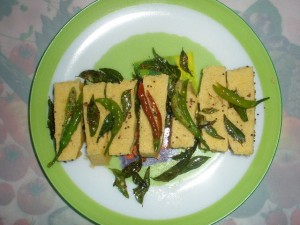 Dhokla is ready to serve.