Ingredients for kofta:
Potato: 250 gm
Corn flour/bread slice: 20 gm/1 no
Salt: 1 tea spoon/as per taste
Oil for deep frying
Ingredients for  filling:
Dry grapes: 5 gm
Crushed cashew nut: 20 gm
Grated paneer/cottage cheese: 20 gm
Green coriander: 20 gm (fine chopped)
Malai/fresh cream: 10 ml
Black salt: 2 pinch
Black pepper powder: half teaspoon
Ingredients for gravy:
Onion: 50 gm (paste)
Tomato: 50 gm (paste)
Garlic: half teaspoon (paste)
Ginger: 1 teaspoon (paste)
Cashew nut: 20 gm (paste)
Red Chilly power: 1 teaspoon
Garam masala powder: half teaspoon
Clove: 2 no
Green cardamom: 2 no
Cinnamon: 1 inch stick
Salt: 1 teaspoon/as per taste
Coriander leaves: 20 gm (finally chopped)
malai/freshcream: 20 gm (2 tablespoon)
ghee/butter: 50 gm
Procedure:
Method for making kofta:
Boil the potato, peel and mash them, then mix salt and corn flour. Make a dough .
Mix all filling ingredients together in a bowl .
Make medium size balls with dough and stuff with filling in little quantity.
Heat oil till smoke is coming. Deep fry each ball till it get golden brown. Keep aside.
Method for making gravy:
Take a pan heat ghee/butter, add  whole cardamom, Cinnamon and clove and fry for few moment.
Add ginger garlic paste and fry few seconds. Add onion paste and fry, then add tomato paste and fry on low heat for 8-10 minutes.
When the ghee separates from masala, add chilly power and cashew paste . Fry 2 minutes.
Add 1 cup of water.
Boil well for 2-3 minutes, add half of chopped  coriander leaves and put off  the flame.
Take a serving bowl and arrange the kofta in it, then put the gravy on the kofta .
Garnish with chopped coriander and cream/malai.
Dish is ready to be serve.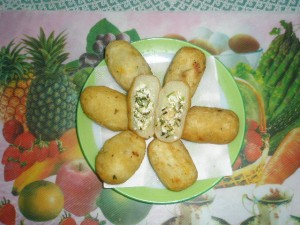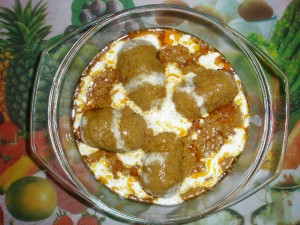 Malai Kofta (Cutlet) by Nag Ratna Sahu is licensed under a Creative Commons Attribution-NonCommercial-ShareAlike 4.0 International License.