Ingredients:
Chicken (boneless ): 250 gm
Vinegar/Lemon juice: 1 tablespoon
Yogurt/Curd: 50 gm
Onion: 1 no (medium)
Tomato: 1 no (medium)
Ginger paste: 2 teaspoon
Garlic paste: 2 teaspoon
Chilly powder: 1  teaspoon
Coriander powder: 1 teaspoon
Turmeric powder: 1 teaspoon
Salt: 2 teaspoon
Garam masala powder: half teaspoon
Cumin seed: 1 teaspoon
Milk: half cup (100ml)
Oil: 5 tablespoon
Butter: 20 gm
Clove: 4-5 no.
Green cardamom: 2 no.
Bay leaf: 1 no.
Cinnamon: 2 inch stick
Procedure for making tikka:
Take the chicken in a bowl and wash it. Rub the lemon juice/vinegar. Keep aside for 5 minutes.
Wash the chicken again.
Marinate the chicken with yogurt/curd and 1 teaspoon ginger, garlic paste , half teaspoon turmeric powder and 1 teaspoon salt, leave it for minimum about 30 minutes. You can leave it for longer period also but then keep it in refrigerator.
Cook it into the barbecue/grill or shallow fry with less oil.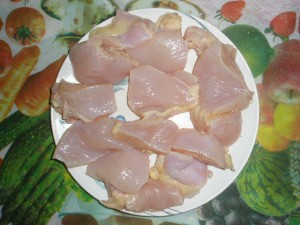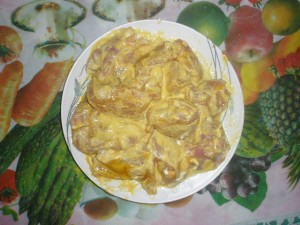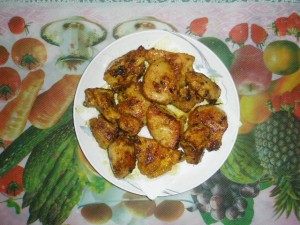 Procedure making tikka masala:
Heat oil in a fry pan. When smoke is coming, put green cardamom, cinnamon, cumin seed and bay leaf then fry for few seconds.
Add 1 teaspoon ginger paste and garlic paste , stir few seconds and then add onion paste and tomato paste. Fry on low flame about 8 -10 minutes till dark golden brown color appears .
Add chilly powder ,coriander powder and turmeric powder. Fry few seconds.
Add 20 gm of butter and half cup of milk slowly.
Boil the gravy.
Add chicken tikka in it . Simmer the flame (at least 10 -15 minutes) .
Add Garam masala powder .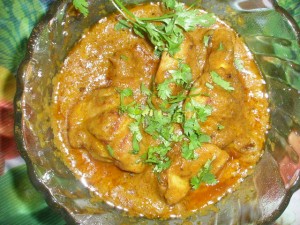 Serve with rice.

Chicken Tikka Masala by Nag Ratna Sahu is licensed under a Creative Commons Attribution-NonCommercial-ShareAlike 4.0 International License.