Ingredients:
Apple: 250gm
Milk: 500gm
Ghee: 1 teaspoon
Condensed milk: 200gm
Pistachio: 10 no (chopped)
Almond: 10 no (chopped)
Saffron: 20 thread
Green cardamom: 2 no
Procedure:
Peel out the apples. Grate the apples with the help of greater /food processor squeeze gently and take out extra juice to reduce the wetness.
Take a fry pan heat the pan. Put ghee in it and when ghee is heated add crushed cardamom. Wait for few second. Then add grated apple. Fry for 5 to7 minutes till apple become light golden. Put it aside.
Boil the milk
Add the grated fried apples in the milk and boil it.
Add condensed milk and boil. Put off the flame.
Add half of Pistachio, almond, and saffron in it.
Serve in a bowl and decorate with left over dry fruits on it. And some apple slices.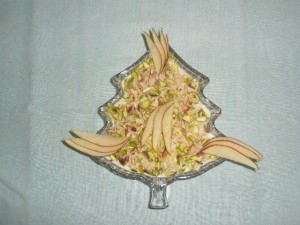 Now apple kheer is ready to serve

The Apple Kheer by Nag Ratna Sahu, unless otherwise expressly stated, is licensed under a Creative Commons Attribution-NonCommercial-ShareAlike 3.0 Unported License.